The installation of a rainfall shower head in place of a standard head can create a wonderful new feel and luxury to your shower experience. This type of shower head can be attached to a wall outlet shower to enhance your daily shower and it is a straightforward process.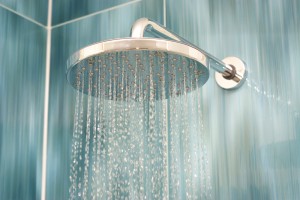 Step 1
Measure the height of the existing shower head from the ceiling of the bathroom. A rainwater shower head requires an extra two to three inches of head height compared with a standard shower head. Some models of rainwater showerheads require at least 11 inches of clearance from the ceiling. If this is not available above users' head height, they may find that the water coming out of the shower will be at chest height.
Step 2
Make sure that there is a clear space between the shower head and the user. Remove any soap dishes, handles and bars so that there are no obstacles between the water fall and the user.
Step 3
Decide on the water pressure required for the new shower head. A larger-diameter shower head will have a smaller outlet pressure than a small-diameter version. Choose a booster pump to maintain the pressure. Anchor Pumps has a wide range of home booster sets, including Grundfos, Stuart Turner, Salamander, Lowara, Calpeda, Flotec and DAB models.
Step 4
If the existing shower head is attached to a shower arm that allows for all of the necessary clearance, the changeover is simple. Start by removing the old shower head. If it is not too old an installation, the head may be easily removed by unscrewing a bolt. Otherwise, it's best to use an adjustable wrench. Take care not to use too great a force and that the pipe is not damaged. Dust, dirt, rust, limescale or other deposits inside the pipes should be cleaned out thoroughly. Allow the pipe to dry out and fix the new rainwater shower head on to the pipe. Use the wrench if necessary, but tighten the head by hand.
Step 5
Install a new shower arm if necessary and attach the rainwater shower head. Test that the shower head is fitted correctly by turning on the water. If the water leaks, tighten up the shower head attachment by hand until the dripping stops.
Do you have any top tips for shower installation? Please share below in the comments box..