A well-designed, powerful shower is the most valuable part of your bathroom. Not only is a refreshing blast of hot water an essential part of your rise and shine routine, but with the right design elements and features, a beautiful shower can bring a sense of luxury to your everyday life. So, if you're considering a bathroom refurb here are 12 shower design ideas that will add both gorgeous design and practical bathroom composition to your home.
1. Walk-In Shower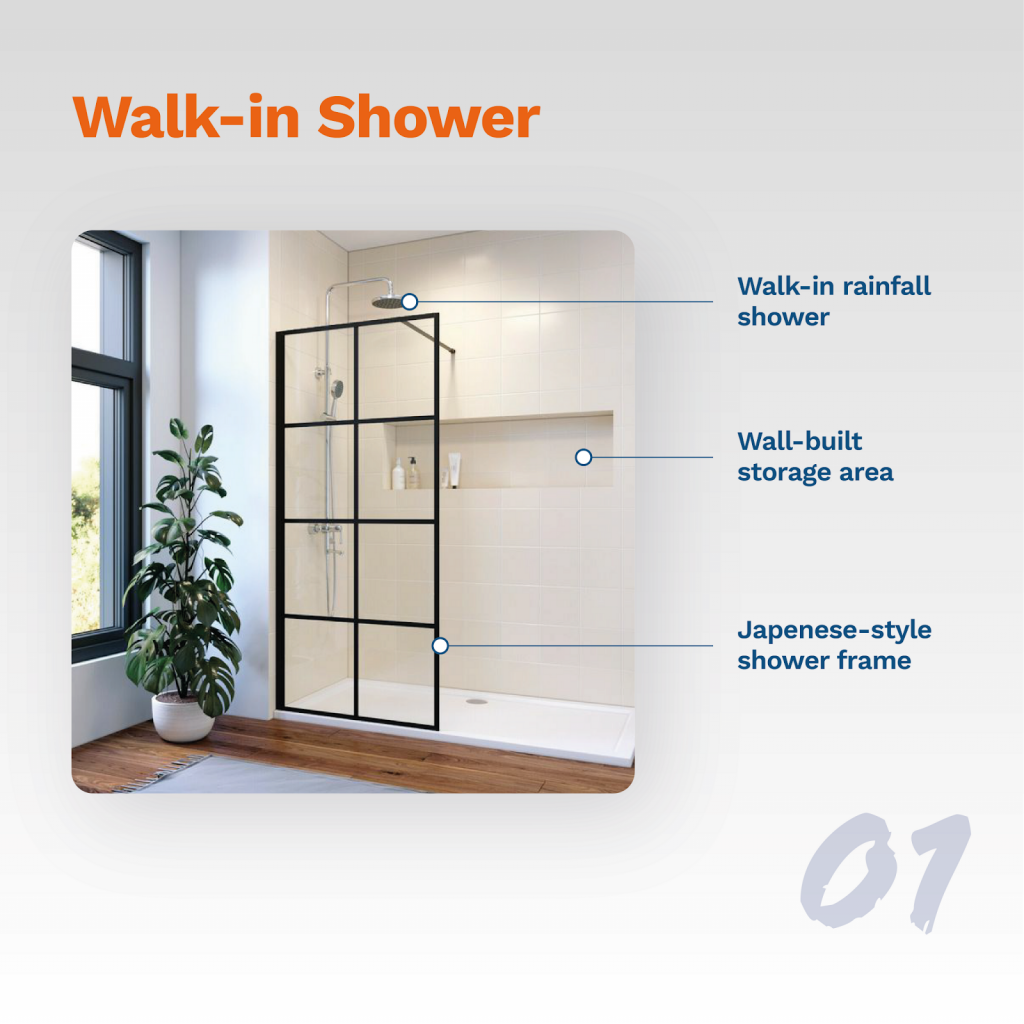 Contrary to popular opinion, a walk-in shower is actually completely free of doors or curtains. To stop splash back and provide a small amount of privacy, walk-in showers will usually feature a glass, brick or plastic partition.
The walk-in shower we've decided to feature has a beautiful Japanese style frame, a refreshing rainfall shower head and a small wall-built storage area to keep all your shampoos, razors and conditioners neat and tidy.
2. Tub-Shower Combo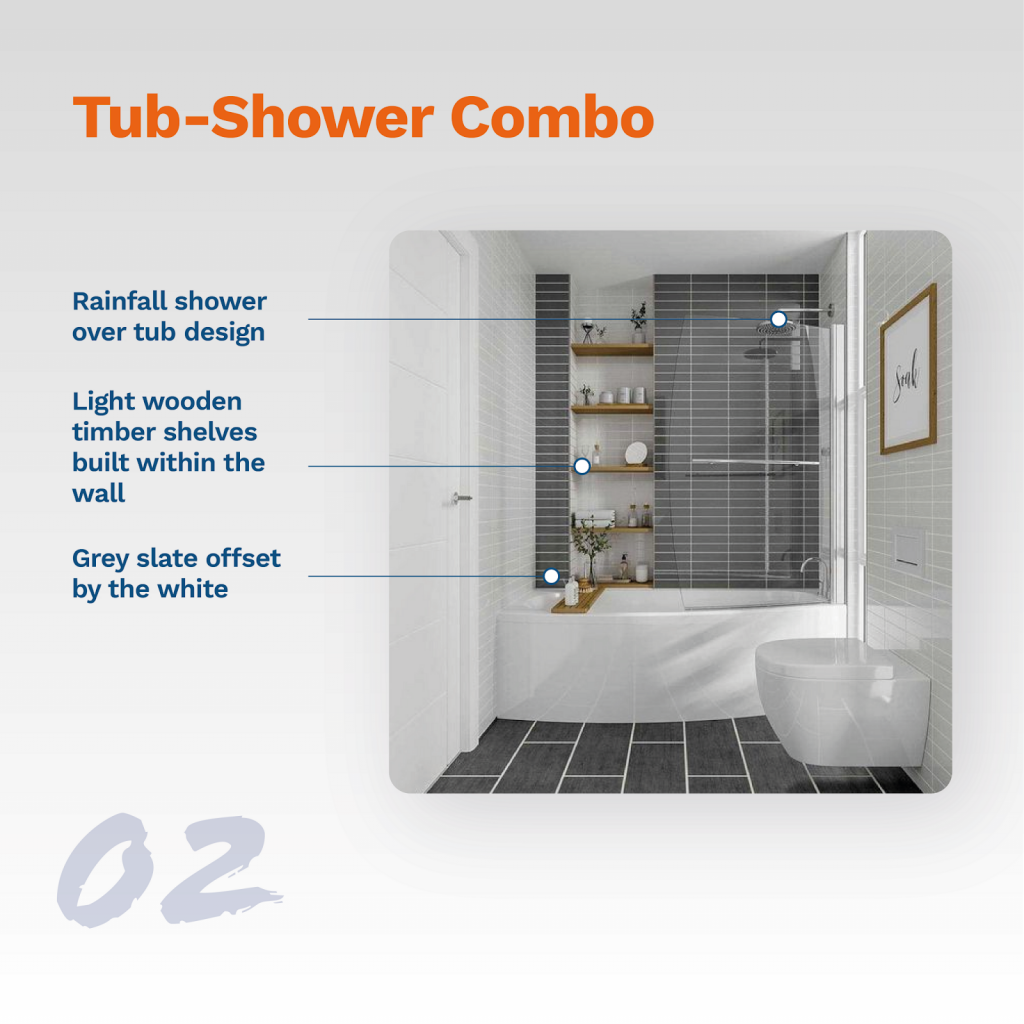 A tub-shower combo is actually what it says on the tin: A bathtub and shower combination. The tub-shower combo is the most popular shower type in the UK, with showers simply being installed above older bathroom fixtures.
The combi we've decided to feature is this wonderful slate on white bathroom. As you can see, this bathroom has a rainfall shower, a series of light timber shelves and a backdrop of grey slate tiles that helps offset the white of the bathtub, the toilet and the bathroom door.
3. Glass-Enclosed Shower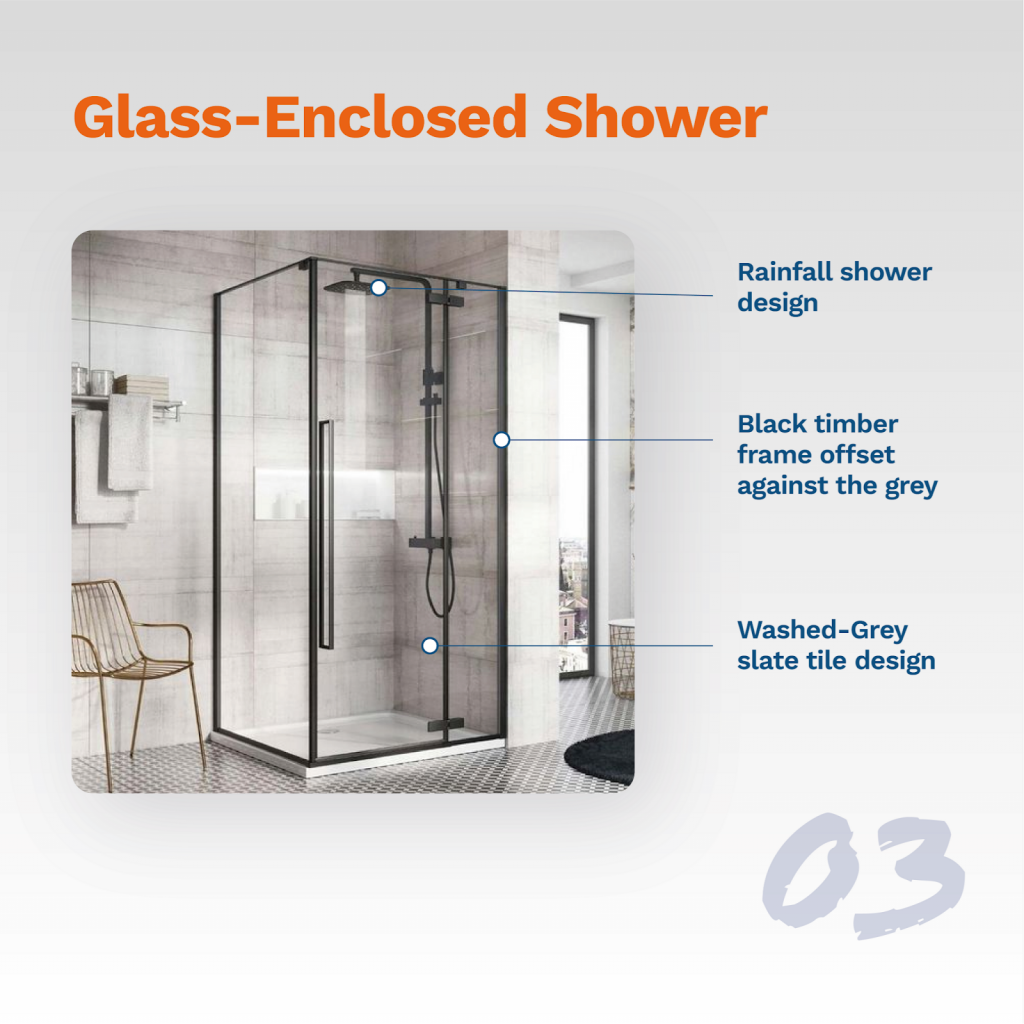 The typical glass-enclosed shower is rectangular in shape and comes in an endless variety of sizes and contortions to fit just about any sized bathroom.
The main benefits of a standard glass-enclosed shower include the more affordable prices and the fact that they tuck nicely in a small corner.
The glass enclosed shower in our chosen image features a black timber frame to offset the washed-grey tiles, while the shower itself features a luxurious rainfall design.
4. Curved-Enclosed Shower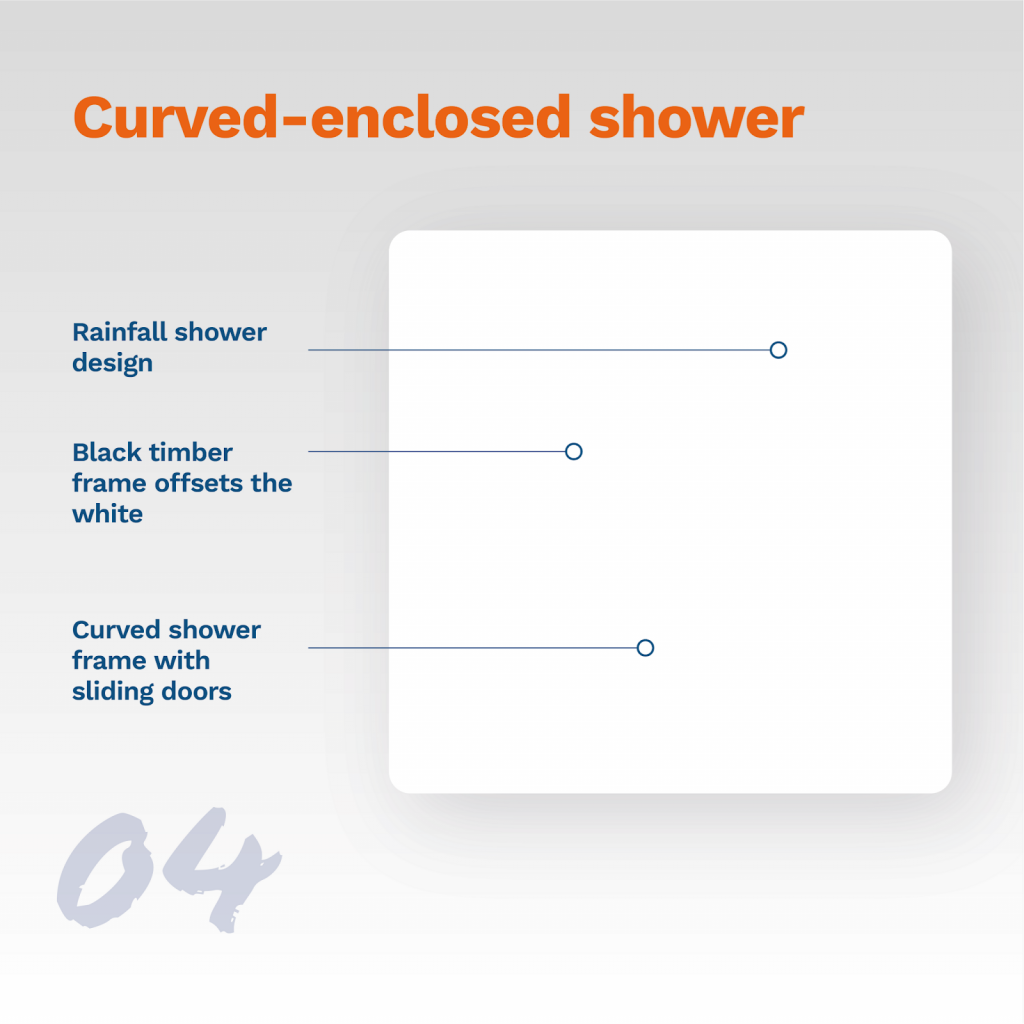 Another type of glass-enclosed shower is the curved enclosure shower. This type of shower utilises a rounded entryway to maximise shower space in smaller bathrooms.
The image we've chosen as an example features a black timber frame with double sliding doors, while the shower itself features a rainfall design to add a touch of contemporary flair.
5. Compact Shower Unit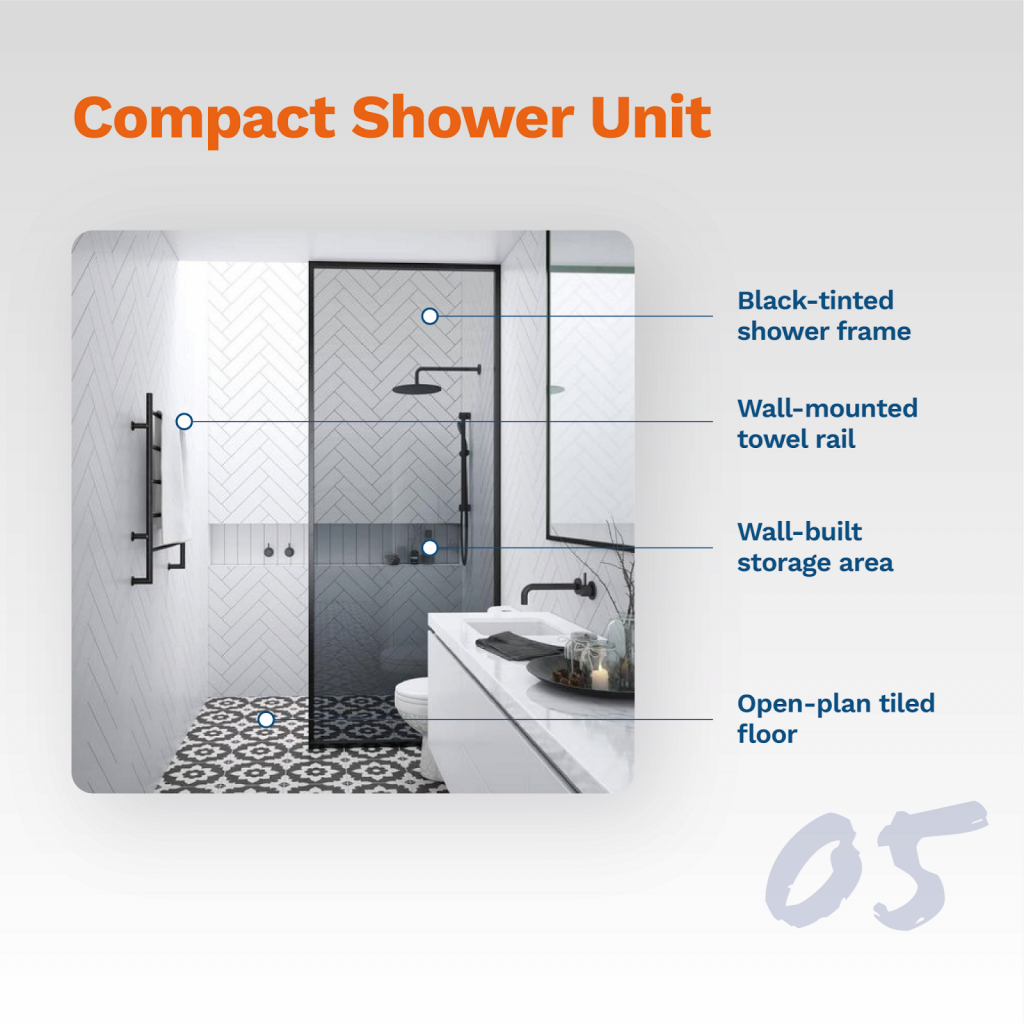 If you have a small bathroom and you want to sacrifice as little space as possible, then a compact shower unit is your ideal solution.
The compact unit we've decided to feature is of an open shower design, which should help avoid making the bathroom feel too cramped. This unit also has a black-tinted partition frame, which should protect your bathroom from too much water splash back while also providing adequate privacy. The wall also has an in-built shelf, which should help keep all your shampoo bottles from cluttering the bathroom.
6. Open Shower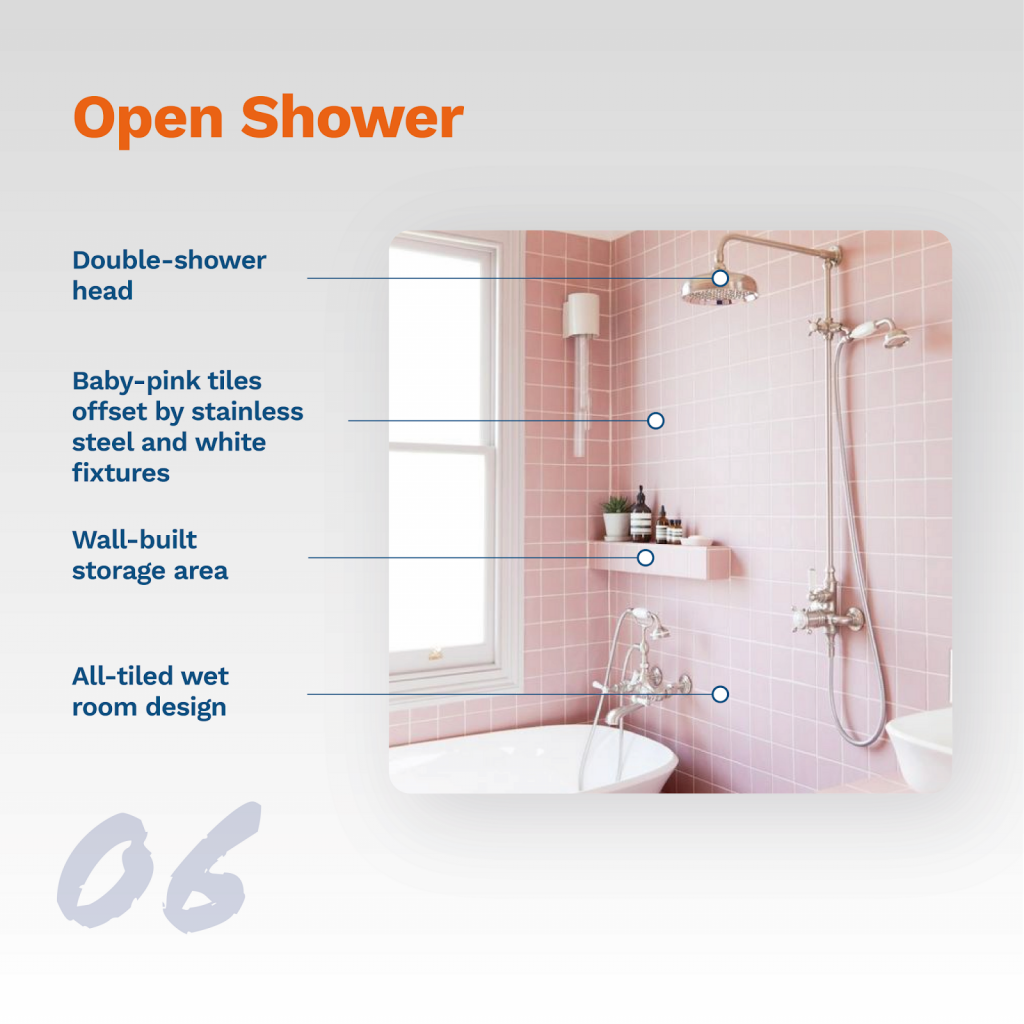 Open showers, also known as walk-in showers, have several benefits. First, these showers are perfect for people with accessibility issues. The lack of a rim or step makes it easy for people with back or knee problems to step into the shower, while the removal of the doors also makes the shower wheelchair friendly. These showers are also easier to clean than enclosed showers. Shower glass often becomes murky with soap or mineral deposits, which will ruin the aesthetic of your bathroom.
The shower we've decided to feature in this article is a wonderful baby-pink wetroom design. The showerhead itself is a rainfall shower, which should prevent much of the dreaded water clean up you can find with regular showerheads. This shower also features a carefully placed wall-built storage area.
7. Light-Filled Shower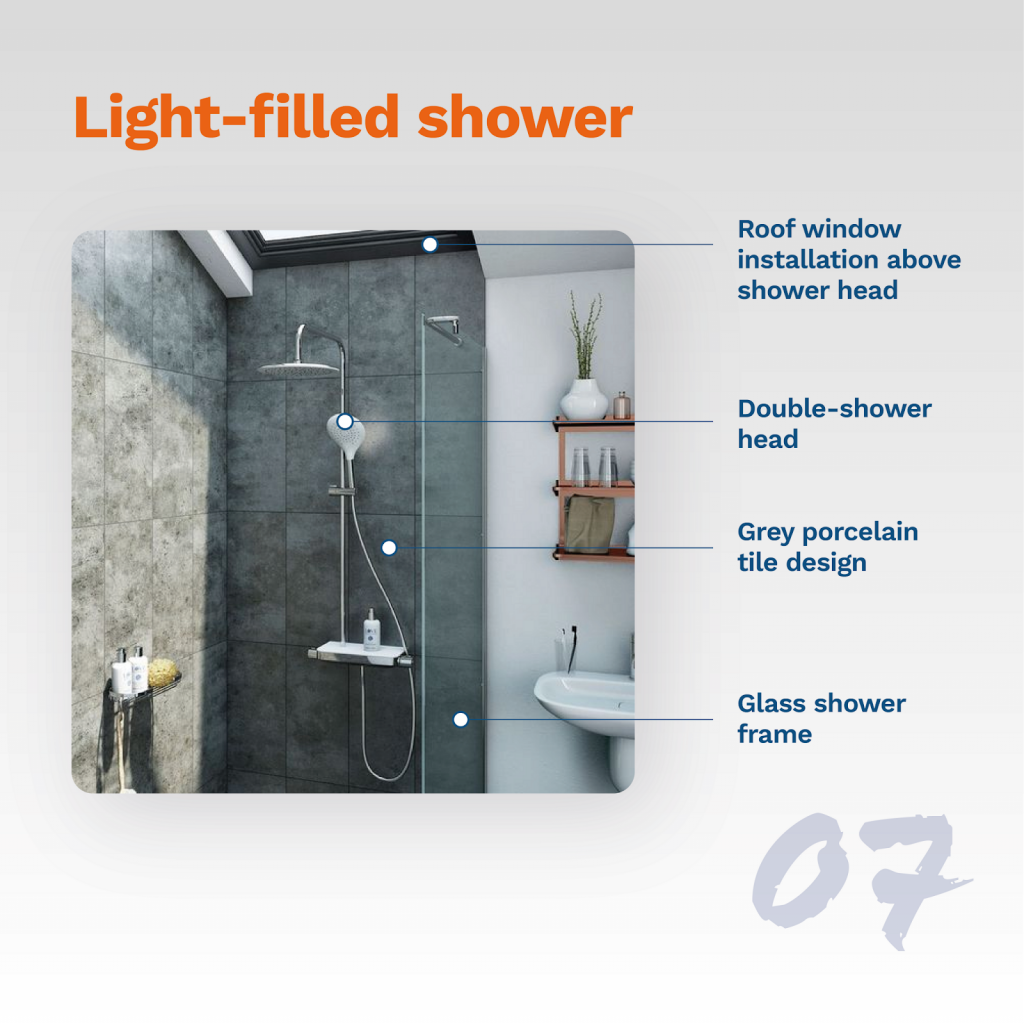 A shower should be a place of serenity. And what's more serene than enjoying a glorious morning shower basking in nature's warm sun beams? Honestly, we can't think of a better way to start the day. If you're thinking the same, then consider a light-filled shower. This is where a roof window is carefully placed just above the showerhead, allowing natural light to flow in as you shower.
Take a look at this fresh and bright shower design in the image above. As you can see, this shower has a roof window installation above the shower head which will fill the shower with early morning light. This is smartly partnered with a grey porcelain tile design, which should help absorb much of the reflected rays and help protect those delicate morning eyes.
8. Private Spa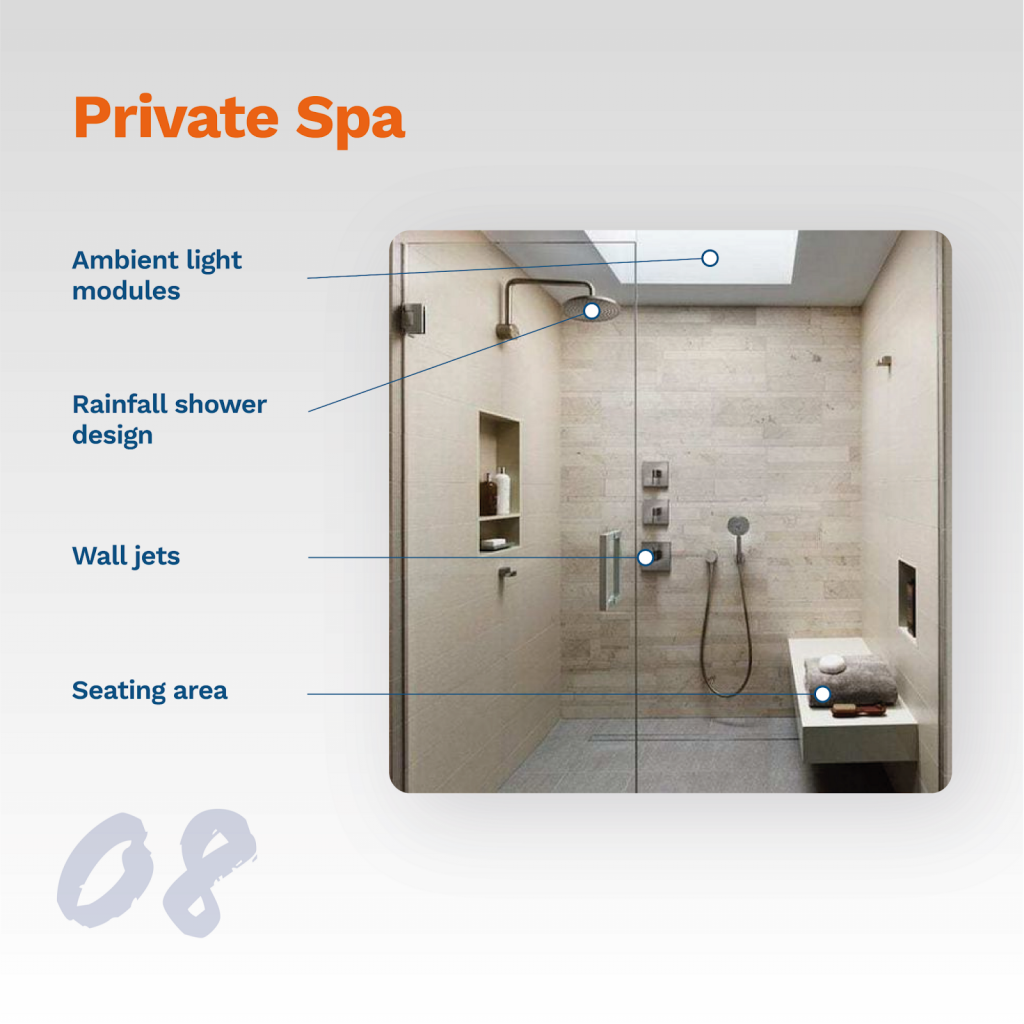 Do you want a place to switch off and recharge, away from the hustle and bustle of daily life? Is the shower the only place you can find just a little time for yourself? If that sounds like you, then you should definitely consider investing in a private spa shower.
Featuring sauna heaters, a seating area, a plethora of wall jets, ambient lighting modules and, of course, a rainfall showerhead, this shower is the easiest way to build a personal oasis right there in your home. Be warned, these showers are not cheap, but if you're looking to be enveloped in a cocoon of water, there really is nothing like the private spa shower.
9. Shower Tower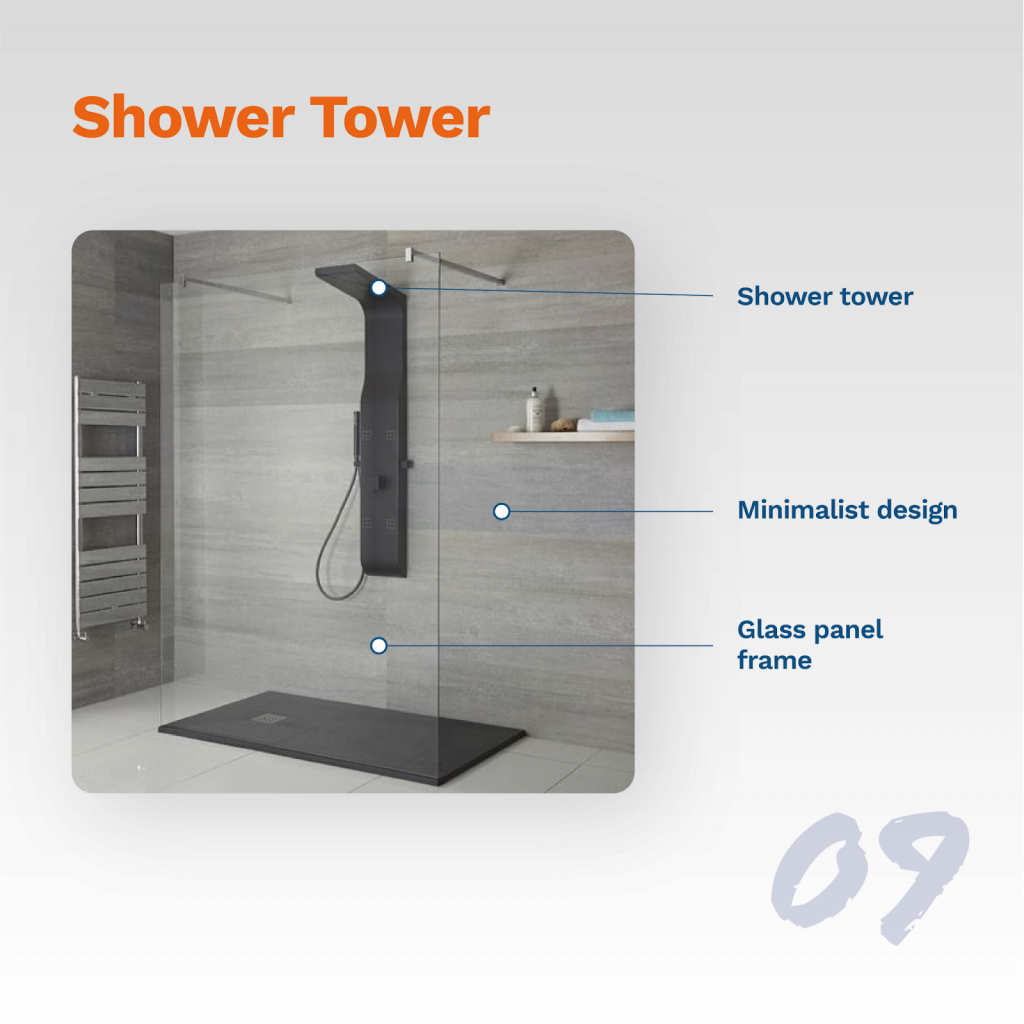 An alternative to the private spa shower is the shower tower. Featuring a vertical strip of shower jets, these unique gadgets are quickly becoming popular in high-end contemporary bathrooms. The actual shower is almost jacuzzi-like, with 6 to 10 water jets spraying water from a variety of different angles. The added bonus is that they're quite a bit cheaper when compared to your private spa shower designs too.
The shower tower we've decided to feature is of a matte black design and features six different jets, four on the panel and two within the showerhead. This bathroom also features a minimalist glass panel frame to protect the bathroom from water splash back. If you're worried about privacy, you could have the glass tinted or frosted.
10. Concealed Shower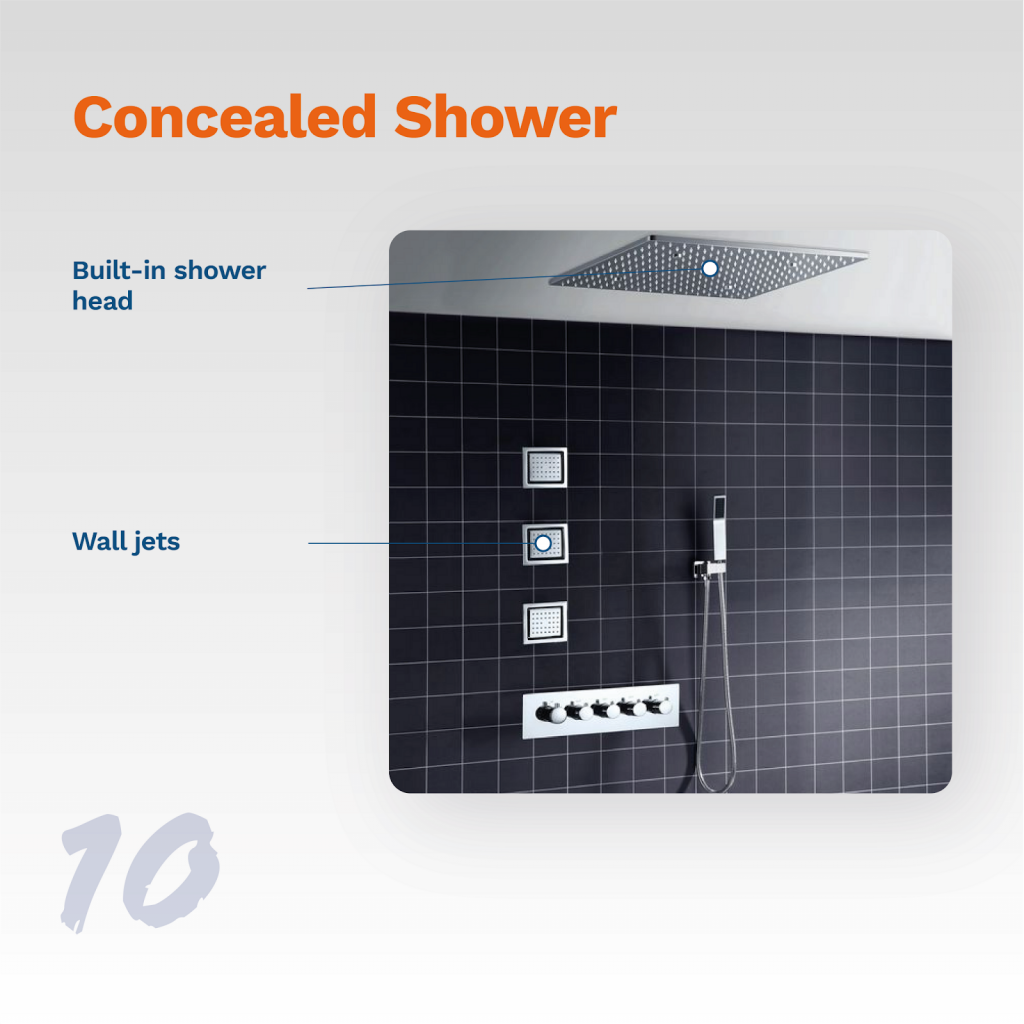 If you're a fan of minimalism or you're looking to make the most of limited space, then you should definitely consider a concealed shower design. Concealed showers are where all the valves, pipework, taps and even the showerhead are concealed behind tiles or vents.
As you can see in the image, this showerhead is concealed to look like a vent in the roof, while only the taps on the wall are clearly visible. This shower also comes with a series of wall jets for that added jacuzzi-like experience.
11. All-Body Shower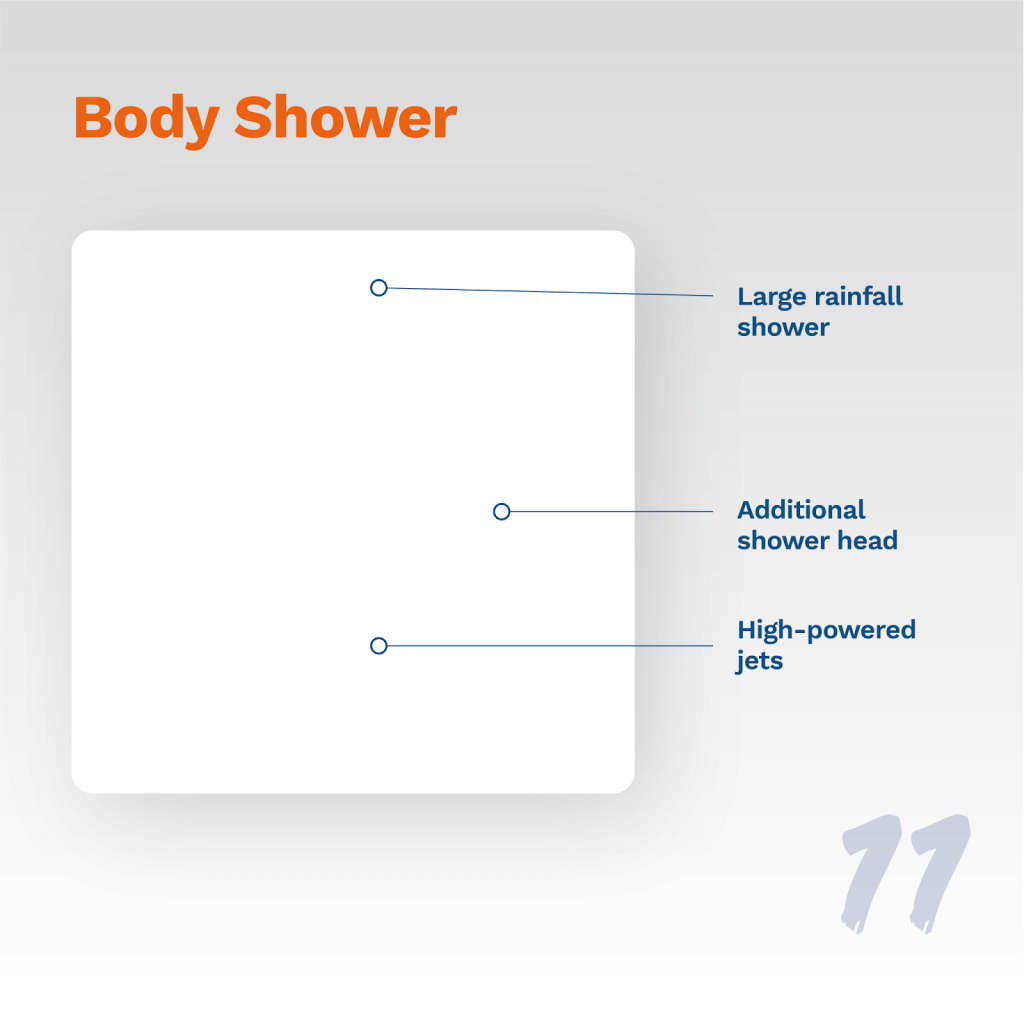 A long and tiring day at work calls for a relaxing and refreshing shower with a spa-like feel. For this, do you opt for the single shower head system? Or, do you go for an 8 jet, multifunctional all body shower that blasts your body from every angle imaginable? We'll let you decide, but for us, it has to be this ultimate all-body shower.
The all-body shower we've decided to feature has a large rainfall shower head to ensure your full body is covered at all times, followed by six additional high-pressure jets mounted to the wall and, if that wasn't enough, you also have an extra shower installed on the wall.
12. Waterfall Shower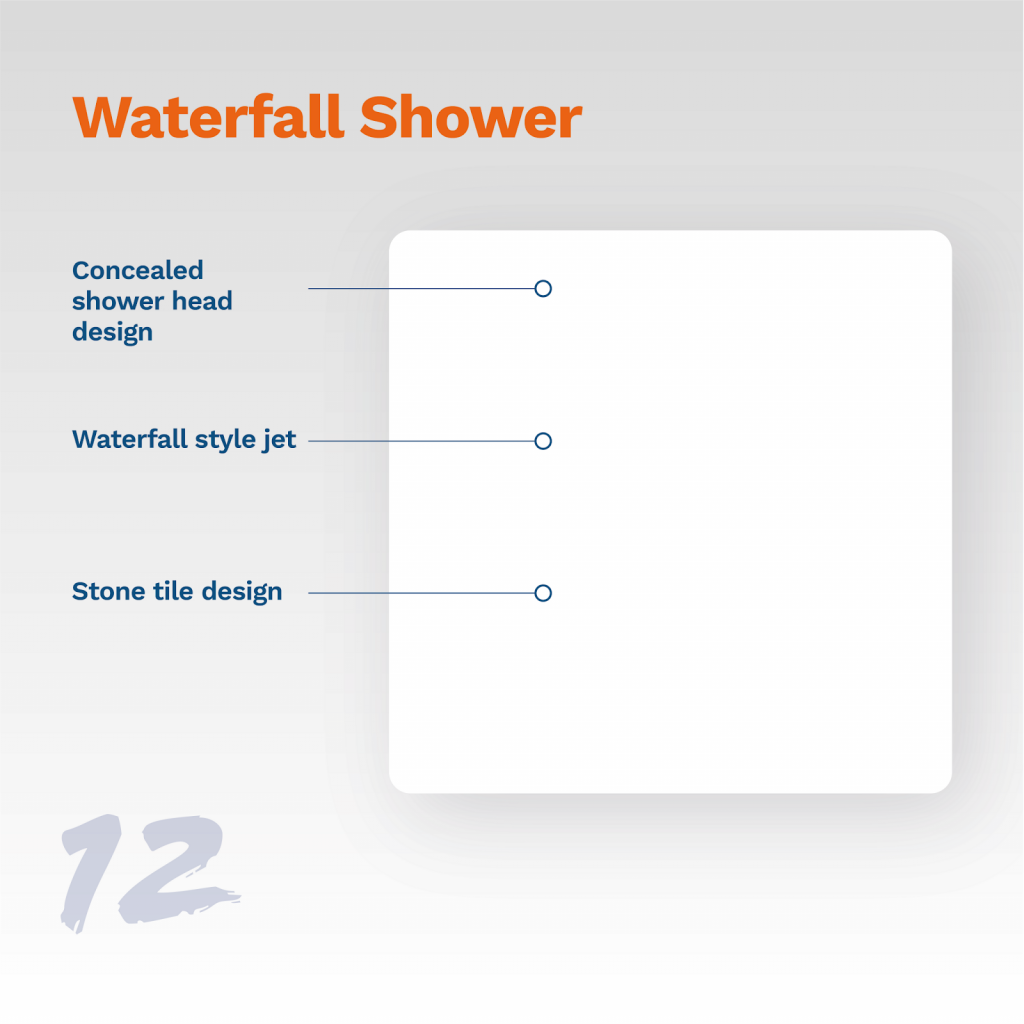 A waterfall shower head is mounted either in the ceiling or on the wall and provides a drenching experience much-like showering in a waterfall. These shower heads have grown in popularity thanks to an "outdoor feel" trend in bathroom design and their frequent appearance on shows like I'm a Celebrity and Love Island.