As we settle into the depths of winter the weather, at some point, will take a turn for the worst. With one in six homes across England and Wales at risk of flooding, many of us will be dreading forecasts of heavy rain and storms.
For some, the risk of property damage due to flooding is much greater. Using open data provided by the Environment Agency, we have been looking at the number of properties which are classed as a high or medium risk. A property that falls within this category has more than a 1 in 100 chance of flooding in any given year.
Flood Risk by Region
Yorkshire and the Humber have the most homes classed as high to medium risk, followed by the South East and the East Midlands. Taking into account population size, Yorkshire and the Humber have significantly more people with properties that fall into a high or medium category of flooding risk. Despite this, the region does not have an allocated flood defence budget that proportionately reflects these risks.
We have analysed flood defence funding outlined by the government ranging from 2015/16 up to 2020/21 to see how much money is likely to be spent and how many homes could potentially benefit. The earmarked funding is inclusive of projects that are already underway, have been given the go-ahead or are in the pipeline. While these projects include physical flood barriers, it also incorporates other improvements such as warning systems and response efforts. The statistics we have analysed are indicative of the allocated spending up to the end of 2020/21.
So how is the budget shared?
Flood Defences by Region
Despite Yorkshire and the Humber having the greatest number of properties at high risk of flooding, South East England accounts for 29% of the proposed spending and that's not including London. Amalgamate Greater London and the South East and 37% of the money is rewarded to just 32% of the population. North West England receives 16.3% of funding for flood defences. While this area has a lower number of properties classed as high to medium risk, the region was badly devastated by Storm Desmond in 2015 and Cumbria was given additional budget to improve flood risk management. Yorkshire and the Humber, receive 15.6% of the allocated budget, while the East Midlands, which has the third greatest number of properties classed as high to medium risk, is allocated 11.9%.
If analysed per capita, Yorkshire and the Humber emerges in second place for the highest amount of spend per person, at £38.80. East Midlands also fairs a little better in third place with a spend of £33.93 per capita. However, South East still comes out on top with £42.62 per capita. Throw London into the mix and combined, this particular area of England is allocated £56.24 per capita.
Despite many constituencies in North East and the East of England being coastal locations, these regions emerge as the least funded regions for flood defences.
Flood Risk and Flood Defences by County
After analysing the regional divisions of flood defences, we wanted to go one step further and see which counties of England have the most properties classed as high to medium risk.
Here are the top ten counties in England with the greatest number of properties at risk. The counties with red location dots do not feature in the top 10 counties with the most allocated budget.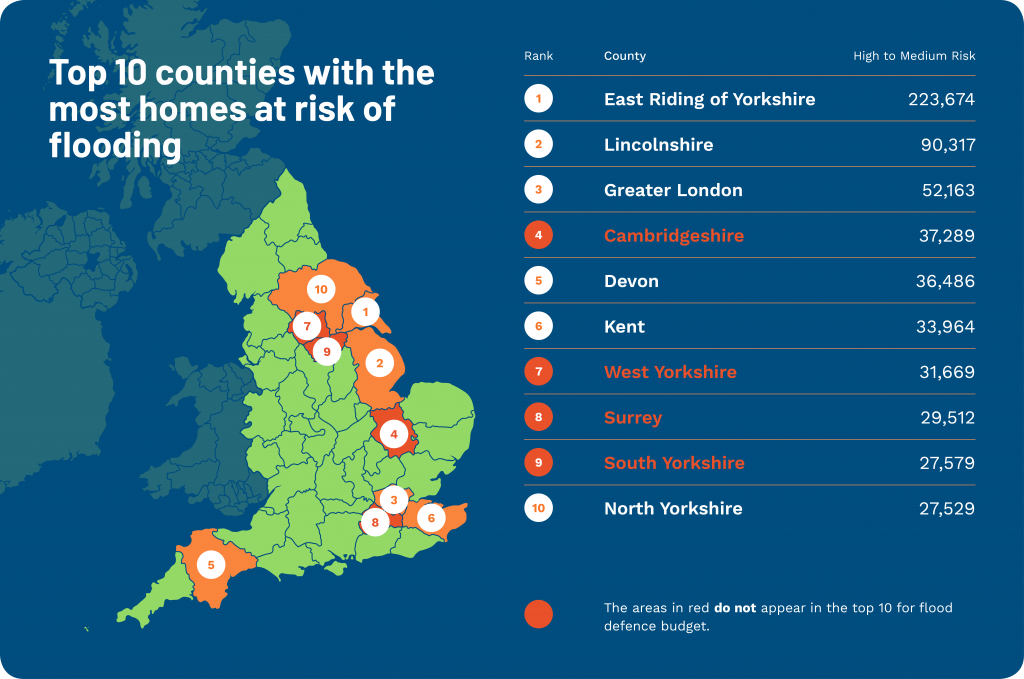 Hampshire, Cumbria, Lancashire and Essex are in the top ten counties who have been allocated the most budget up until the end of 2021. However, these counties do not have the largest number of properties at risk of flooding. So, why might this be the case?
The county of Hampshire is home to coastal constituencies such as Portsmouth and Southampton. A large proportion of money has been allocated to prevent coastal erosion. In addition, areas of Basingstoke, Romsey and Winchester have been identified as high-risk having been hit by high-profile flooding cases in recent years.
While Cumbria does not have one of the highest numbers of properties at high to medium risk of flooding, Storm Desmond left a huge aftermath in 2015 as the River Kent, River Eden and the River Derwent all burst their banks simultaneously. In the following 6 months, 150 million was spent by the government on recovery. Plans reveal that Carlisle and Westmorland & Lonsdale have the biggest budgets allocated to them to invest in new flood defences.
Districts and Constituencies Most at Risk of Flooding
Our analysis has revealed the top 20 council districts that have the highest percentage of properties at risk of flooding.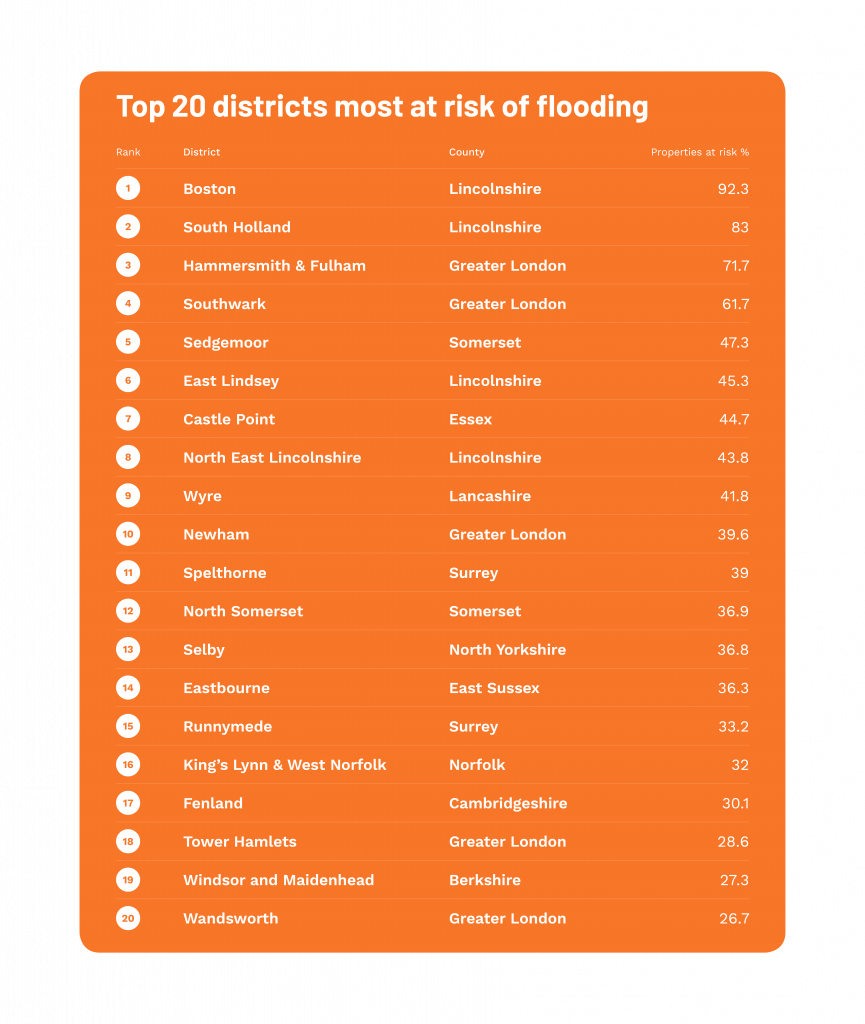 How to Prevent Flood Damage
If you live in an area that is prone to flooding it is important that you know how to minimise the damage to your home. Here are 6 top tips that will help to protect your home.
Be aware of the risk. Many people are not even aware that their home is at risk of flooding, which means that they probably don't have a plan in place in case the worst happens. Click here to see if your postcode is at particular risk. If you live in an area that is prone to flooding, it is a good idea to sign up to Floodline. Floodline is a government website that will notify you when there is a risk in your area.
Understand the drainage system. Knowing your home is vital. Whether you live in an old or new build, most properties are built with the purpose of draining water away. However, next time it rains, observe how water accumulates and which way it flows. If water gravitates towards your home or accumulates as standing water very quickly you may want to speak to your local council to see if they can help you minimise the danger.
Block the water out. It is important to do all that you can to stop water from entering your home. Sandbags are traditionally used to block water however, there are other products available. For example, you may consider a floodgate if the risk of flooding is frequent. Don't forget that water can also enter your home through drains, sinks and bathtubs so it is important to seal these holes.
Move your possessions. If the risk to your home is significant, you should plan for the worst and move your possessions upstairs. Flood water can rise very quickly so planning ahead can prevent damage and save any sentimental possessions from harm.
Know how to turn off your mains. In the event of an evacuation, you should switch off gas and electricity sources in case flood water enters your home. Make sure that you know how to do this and where to find the taps and switches. Remember, if flood water does enter your home, gas and electricity supply should not be turned back on until a professional advises that it is safe.
Purchase a Submersible Pump. A submersible pump is a great piece of equipment to own if your home is at high risk of flooding. A submersible pump can be used to remove flood water from your home as quickly as possible.