Suffering from cold radiators even with the heating on full blast? Does your system seem to take an age to heat up? Or maybe you're enduring a chronic humming sound that magically appears when you turn on your central heating system? If you're experiencing any of the above, it's likely that your central heating pump needs replacing.

But what is a central heating pump? How does a central heating pump work? And how do you know that it really needs replacing?

Well, if you're new to the world of central heating, it's likely you will discover that finding the answers to these questions can be a tad overwhelming. Incomplete and complex information abounds in the plumbing world, and it only gets more complex when researching pump systems.

That's why we've developed this complete guide to central heating pumps. Covering every element that you will need to know when purchasing a central heating pump, this guide includes: What is a central heating pump? How does a central heating pump work? Does my central heating pump need replacing? And we also analyse a variety of common central heating pump problems.
What is a Central Heating Pump?
Ok, let's start with the basics. What exactly is a central heating pump for? Well, central heating is a large, water-based system that heats all areas of the home.

It works via a central boiler that heats the water before being pumped around your home. In this system it's important that hot water is efficiently pumped to all areas of your home as quickly as possible. The longer the water takes to travel to different areas of your home, the cooler the water will be and the less heat you will receive.

Essentially a central heating pump is a system used to speed up the process of circulating hot water from your boiler, to your radiators and back to the boiler. The pump is an efficient tool that ensures water is moved around your home before it cools.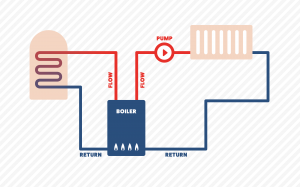 How does a Central Heating Pump work?

Central heating pumps are not complex tools. Most pumps will be made up of six simple components that you can see in the diagram below. Please keep in mind that some pumps will not have a pump pressure adjust dial.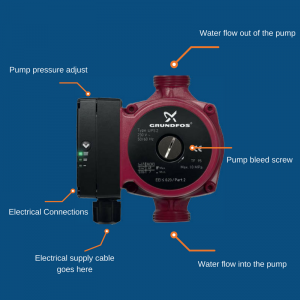 Central heating pumps work by taking water into the pump, pressurising the water with the impellers, before then pumping the water around your heating system at a higher speed.

If you would like a more detailed description of how central heating pumps work, please watch the video below.
Common Central Heating Pump Symptoms and Fixes

As with most things in your home, issues will no doubt crop up with your central heating pump. If you're having problems with your central heating, the pump may be to blame if you're experiencing any of the issues below.

As usual, we've listed our best advice for fixing the problem. If you are not confident in dealing with the issue then please contact a central heating technician to assess your system.
1. My Pump is Rattling or Producing a Humming Noise

A pump that has been installed incorrectly will have an impact on your central heating system. Not only can the rattling have long-term wear and tear consequences on your pump, but it can also stop your pump from working efficiently.

Fix: Check the pump fittings. If you find any loose screws or bolts then tighten them.

2. My Central Heating is Making Noises

Not to be confused with noises coming from your pump, alternatively you could be hearing a general humming or knocking noises coming from your wider central heating system. This could be a sign that air has entered into your pump.

Fix: If you suspect air has entered the pump then follow the pump's manual to bleed the system.

3. My Pump is Making NO noise

As with all machinery, you should expect a small amount of vibration and noise. If your pump is making no noise and the central heating is failing to distribute heat evenly around your home, then you may have a jammed Impeller.

Fix: You'll need to open the pump and thoroughly clean it. Foreign bodies can sometimes enter the water supply that can affect the running of the pump.

4. My Pump is Not Starting

If the central heating system is not activating the pump or a fuse has gone then your pump will not start.

Fix: Call a qualified professional to check the wiring.

Does My Central Heating Pump Need Replacing?

In some circumstances the fixes listed above may fail to resolve your problem. Internal corrosion is common in central heating pumps and in this instance you will need to replace your pump.

While we advise calling a qualified central heating technician before replacing any equipment yourself, there are some circumstances where you can be certain your pump needs replacing.

My Pump is Too Hot to Handle

Generally, a hardworking pump will a be a tad warm, but if your pump is getting too hot to touch then it may be a sign of serious damage. In this case you may need to check the warranty of your pump provider, but generally you will need to replace the pump.

My Pump is Making a Grating or Knocking Noise

If your pump is making a grating or knocking noise then this could be a sign of serious damage inside the pump. Again, check your warranty with the pump provider. Most will replace the pump if the original was faulty.

My Pump is Only Heating Some of the Radiators

If your radiators are working downstairs but not working upstairs then this may be a sign that the pump is starting to fail. If your pump has a pressure dial then you can try to turn up the pump pressure, but if this fails to work then you may need to invest in a new, more powerful central heating pump.

My Pump is Leaking

If the pump is leaking, then it may need to be replaced. This is almost certainly as a result of corrosion which can't be fixed. If brown liquid is leaking from the start capacitor, or it looks burnt out, you can replace this part only.
What Central Heating Pump Should I Buy?

If you are in the market for a central heating pump then have a look at our recommended options below. They have all been tested by our in-house engineers and are the highest quality pumps available on the market.

1. Grundfos UPS2 15-50/60
Regarded for its high quality, the Grundfos UPS2 15-50/60 is a universal replacement pump. Directly replacing the old UPS 15-50 and UPS 15-60, it is ideal for tight-fit installations and can be fitted without disturbing the pipework. There is an option of the UPS2 15-50/60 to be fitted as a pump head only, meaning that it can be fitted onto any existing UPS pump types. So, what other benefits does the Grundfos UPS2 15-50/60 offer?

The Grundfos UPS2 15-50/60 is highly energy efficient, offering three different settings. The settings refer to the speed in which hot water is circulated around the system and distributed to radiators and faucets. The best speed setting to use is the lowest speed at which the system works without any problems. The lower the setting, the more energy efficient the pump will be. This pump is designed for a 4m, 5m or 6m performance.

The plug-in control box can be mounted on the top, left or right of the pump offering versatility and accommodating a range of installation options.
Find the Grundfos UPS2 15-50/60 here.

2. DAB Evosta 40-70/130
As the DAB Evosta is powered by a permanent magnet synchronous motor, it can generate torque at zero speed which in turn, creates constant oscillation through water membranes. This increases efficiency, enabling hot water to be pumped at high speed to radiators and faucets as and when required. An ideal replacement for older three-speed circulators, the Evosta 40-70/130 covers 4.5m and 6m head models with a single pump.

A big benefit of this particular circulatory pump is the frequency converter, which is highly energy efficient. A fitted electronic device detects any changes of demand within the system and adapts to one of the six variable speed settings available.
Find the DAB Evosta 40-70/130 here. 

3. Lowara Ecocirc 25-4 (180)
Perfect for single family houses or apartment buildings, the Lowara Ecocira 25-4 (180) uses a variable-speed electronically communicated motor type. The motor is powered by a spherical rotor, which is shaftless, reducing the amount of noise as the motor turns.

A ceramic bearing ball is encapsulated within the impeller unit as part of new anti-blockage technology. The ceramic bearing separates water flow from the parts of the system that are magnetic, which reduces the amount of magnetite and sludge build-up.

The Lowara model is fitted with a built-in sensor that monitors temperature. By ensuring that the pump ceases to continue working when the temperature of the water reaches 125 degrees, it prevents itself from overheating.
Find the Lowara Ecocirc 25-4 (180) here. 

4. CPL CP50 (130)
The CPL CP60 (130) is a high-efficiency, glandless circulating pump, which is perfect for domestic households and is simple to connect. A glandless pump operates with no shaft or seal, meaning that there is nowhere for the water to leak.

Offering versatility, this pump type can be used for all heating and air conditioning applications with temperatures ranging from -10 degrees to +95 degrees.

The CPL CP50 (130) is easy to operate and comes with a three stage speed control system, which applies variable differential pressure. The varying pressure dials can be selected to suit radiator and underfloor heating applications.
Find the CPL CP50 (130) here. 

Ensure that your house gives you a warm welcome this winter and take a look at our selection of domestic circulating pumps. By choosing to install a domestic pump, you can save yourself money on your energy bill by ensuring that your heating system is operating at maximum efficiency.