Water is a crucial element in the health of your lawn and garden plants. Fail to provide enough water and your garden will start to die. Provide too much water and your grass will become ridden with spores and disease.
But as you know, ensuring your garden is well-fed with water can be backbreaking work. Lugging a watering can around the garden is tough and we wouldn't blame you if you couldn't find the time or effort.
So, how can you make watering your garden effort-free? By building a garden irrigation system. Now, I know what you're thinking... "this is going to take loads of time, money and effort to build". But I promise, this is the cheapest and easiest way to build a garden irrigation system.
Here's how it works.
How to Build an Easy Garden Irrigation System
Step 1 - Install a Water Butt
The first thing you need to do is purchase and install a water butt. Now, a water butt is like a large kitchen bin. They usually have a lid which fits directly under a waterspout running from your garage or garden shed.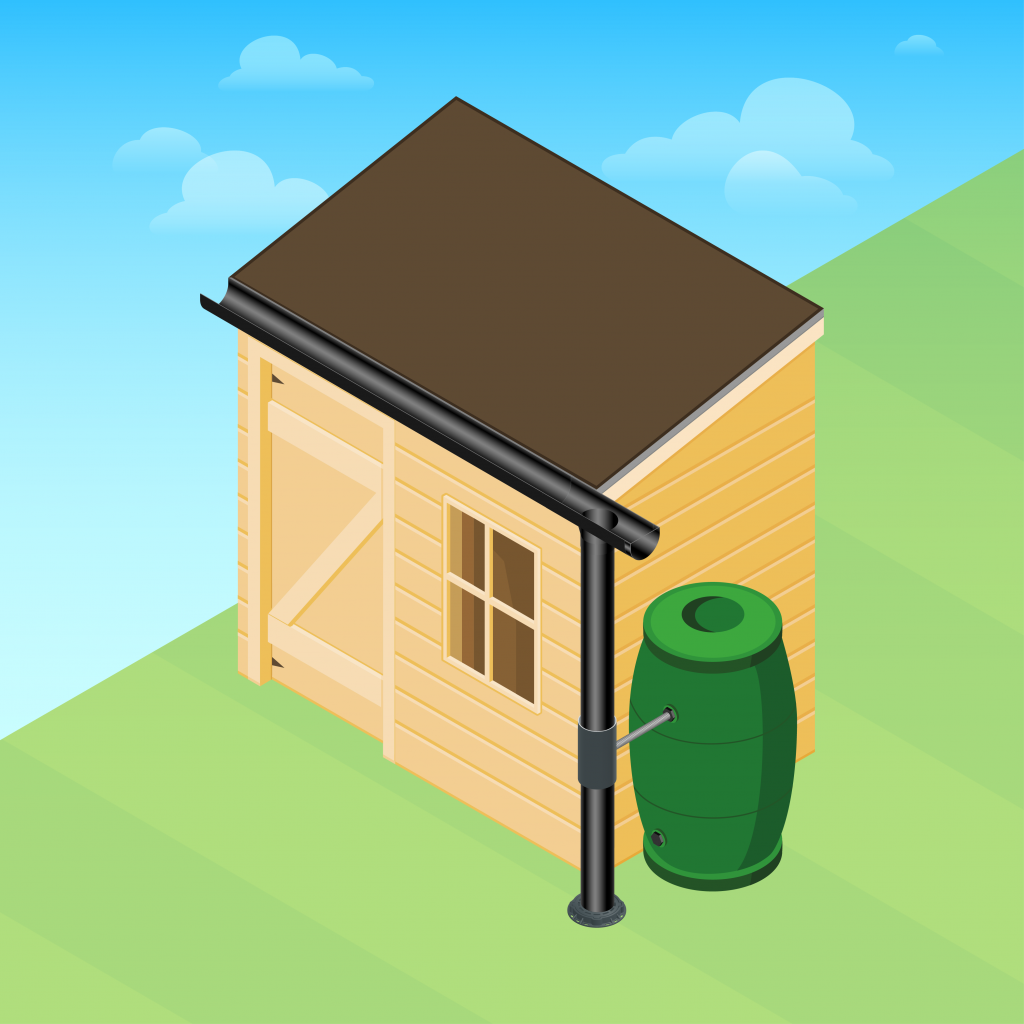 The idea behind the water butt is that garden irrigation only becomes an importance in the UK when summer, and particularly heatwaves, arrive. The arrival of hot weather is usually complemented with a hosepipe ban. That makes traditional garden irrigation systems a bit useless when you really need them.
That's why we'd recommend a garden water butt. You can collect your own source of water throughout spring and then use that water to hydrate your garden outside of local water usage regulations.
Plus, as a bonus, you don't have to pay all those extra water bills.
Step 2 - Install a Water Butt Pump
Now that you have a water butt installed the next thing you need is a water butt pump. A water butt pump is a small waterproof pump that can be placed inside the actual water butt underwater. It then has a hose which runs from inside the water butt and out of the butt from the lid.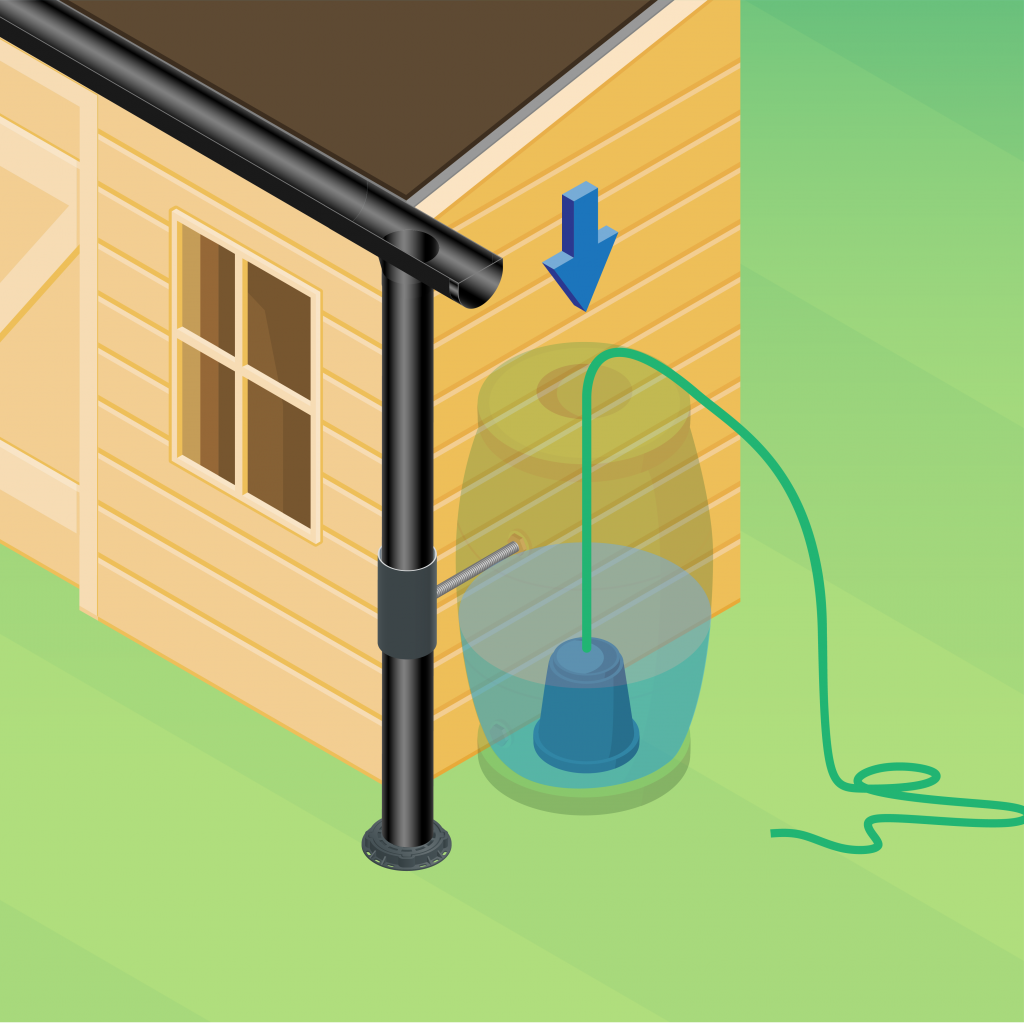 From there, you can either attach a hosepipe or, for an easier life, attach a sprinkler system.
Water butt pumps are fairly cheap and you can pick up one for as little as £49. Check prices here.
Step 3 - Attach a Sprinkler System
Once the water butt pump is installed inside the butt you can now attach your choice of hosepipes or sprinkler systems. Our suggestion is to purchase a cheap sprinkler system from Amazon.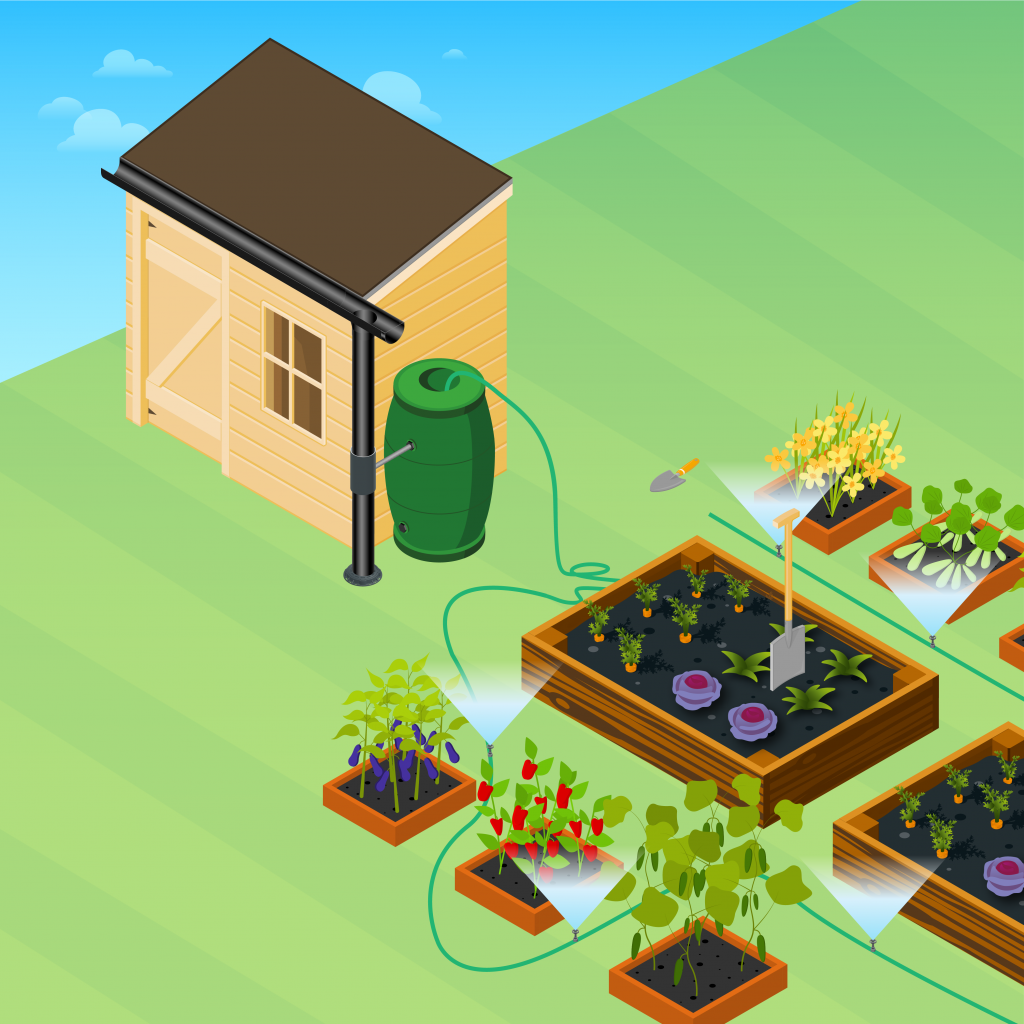 From there, you can either set up a proper irrigation system, arranging the sprinklers in such a way that key plants receive a high quantity of water. Take a look at the graphic below for a simple example.
Alternatively, you can simply use the hosepipe attachment. Simply attach your garden hose and you can then direct the spray around your garden. Whichever is easiest for you, really.
Step 4 - Sit Back and Relax
And that's it. Three simple steps to setting up an easy garden irrigation system. No need for fancy pipework or water regulators. Simply find yourself a water butt, plug in a pump and attach a set of sprinklers. Easy and cheap.
More Help and Advice
I don't have anywhere to place a water butt
If you don't have the space for a water butt then you will have to run water from an outdoor tap. If that's the case, we would recommend purchasing a garden hose pump instead of the water butt pump. This will give you the water pressure you need to operate a sprinkler system.
I can't find a water butt pump
They're fairly new to the market, so you might not find one down the local DIY shop. We'd recommend purchasing one online here.
I need more garden irrigation advice
You can call us for free on: 0800 112 3134 or 0333 577 3134. We're open Monday to Friday 07:00 - 17:30 and Saturday 08:30 - 12:30. We're happy to help you find the ideal garden irrigation system for your garden.