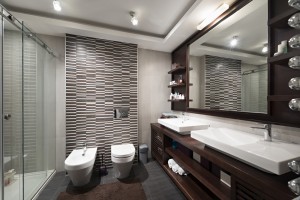 Everyone loves to complete a bit of DIY around the home in the new year, it gives you something to do in those boring winter months! When thinking about where to start your next project, have you considered the bathroom?
If you've had your bathroom for a long time, there's a good chance it will have started to look a bit worn and washed out. You should give it a nice and thorough clean, but if you still feel like the room looks a bit stale, why not challenge yourself to a bit of DIY to spruce up the place?
Stack those shelves
Is clutter a big problem for you? If so, you might want to consider building some floating shelves. It's a great place to start putting your towels and toiletries to bring a bit more order to a messy bathroom. Some nice oak or marble shelves placed on top of each other can really help with storage in your bathroom, while helping with the overall look of the place.
For anything too heavy, wicker baskets are draw are a great option here to put them out of sight and out of mind, but easily accessible.
Look into a mirror
Adding a mirror to a room will instantly brighten up any room and give the illusion of a larger space, and the bigger the mirror, the bigger the difference. A full-length mirror could add a massive amount of depth to your bathroom (at least visually). You could also get some mirrored cabinets, which will help by adding some much-needed storage to your bathroom.
Think about your bath/shower
The centerpiece of anyone's bathroom: your bath and shower. If you're going to spend the most time in the bathroom in either of these, you want them to offer a relaxing vibe. There are minor changes you can make yourself that won't cost you an arm and a leg or take too much time.
One thing that will make a big difference is improving your water flow; this is not as complex as you might think, simply upgrading your shower pump will make a massive improvement to the flow of water! Most manufacturers offer advice on their websites for installation, with videos and 'how to' guides.  
Making minor cosmetic changes such as fixing or replacing broken tiles, regrouting or even cleaning dirty grout can also make a significant difference to the overall look of your bathroom!
Tap into potential
Nobody ever thinks about the taps in their bathroom, but there are actually so many sleek and stylish designs for the faucets in your home nowadays. Our favourite has to be the taps that come with a waterfall feature. If your budget allows, investing in some brand new taps can give a bathroom a chic new look and it's not as difficult as you think to replace them. You can look at this handy guide to give you all the information you need to complete the task yourself.
Consider a new throne
We're all used to the standard white toilet seat, but just because it's the norm doesn't mean yours must be. Jazz it up a bit and go for something with a bit more identity, whether it be a different colour, style, or simply get a new toilet seat lid – after all, not all DIY ideas need to be so drastic.
Accessorise to your heart's content
A lot of the time your bathroom might only need a few 'finishing touches' – this is the time when you can start experimenting with accessories. Even little things like a new bathmat, soap dispenser or glass jars to put your toiletries in can really brighten up a room and make it feel vibrant. A great idea to add some freshness to your bathroom could be to include a houseplant, which won't even need much looking after as it's already in a moist environment!