Coping with a sudden flood and its aftermath can often be a difficult experience. It takes time, knowledge and the correct equipment to restore some level of normality to your home or business.
This has been the case of many households throughout Britain during the 2014-15 winters; the wettest recorded for over a century. Many areas in the UK remain at risk of further flooding during spring and autumn in addition to the potential for unusual or flash flooding during the summer.
After salvaging furnishing such as sofas and carpets wherever possible, it is necessary to strip the affected area to bare floorboards and concrete so that drying can begin. However, before the restoration process can commence, the daunting task is removing large volumes of flood water, and this is where emergency flood kits are needed.
After high demand from customers, the team here at www.anchorpumps.com have created a new range of complete emergency flood kids, specifically designed to protect from and clear up flood damage in both domestic and commercial properties. They consist of submersible pumps and accessories, essential in case of a flood emergency, and we have already seen many householders and business clients preparing themselves by purchasing and storing these kits in readiness;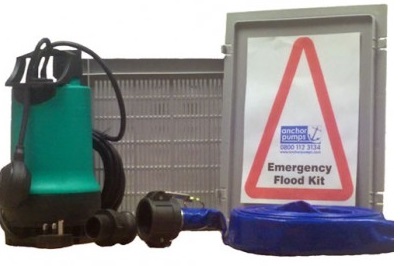 The emergency flood kit consists of:
1. A Wilo Drain TMW 32/11/B, 24 watt water cooled basement drainage pump. This is suitable for stationary and fully automatic operation. The pump generates a continuing turbulence around its suction area. As a result there is no generation of odours related to the flooding and sediment settling is eliminated. A fluid that circulates between the pump shroud and its outside housing is cooled to prevent overheating during prolonged operation.
2. A Carry Cage that can be used to filter away leaves and other debris.
3. A 10-metre, weather resistant, Layflat hose. These hoses are collapsible, strong and very flexible. They are commonly used for agricultural and industrial water pumping as well as for domestic emergency flood kits.
4. A ¼-inch width Hosetail clip made in zinc-plated mild steel that will connect the pump and the hose. Its tough design means that it will withstand use in adverse conditions.
5. ¼-inch Camlock Couplings that fit between the pump and the hose. These are vital to connect the hose, tank and other fittings. These couplings can be made of stainless steel, aluminium, polypropylene, fibreglass as well as reinforced nylon to suit the nature of the liquid being pumped.
As Britain's leading distributor of domestic and industrial pumps, Anchor Pumps has been a major player in the UK pump industry since 1976 and are pleased to be adding a new range of products to its ever growing online categories.
Click here to shop the new range of emergency flood kits online from £99