A Decade of Waste
It is no secret that landfill sites in the UK are fast running out of space. There will come a time when burying our rubbish won't be an option.
While increasing recycling rates is important in tackling the problem, we must also pay more attention to reducing residual household waste.
We analysed a decade worth of data supplied by local authorities in England to see just how wasteful we really are.
Waste VS Recycling in England
From 2006-2016, England alone produced 237,581 thousand tonnes of household waste. As you can see from the graph below, 23,449 thousand tonnes of waste was produced per household in 2015-2016. While this amount is lower than the 25,775 recorded in in 2006-2007, residual household waste has increased since 2012-2013 when it was at its lowest.
Worryingly, the most recent data on recycling rates shows that levels have decreased since 2014. The latest overall recycling rate stands at 43%, a 0.7% decrease since 2014. However, rates have drastically improved by 12.91% since 2006.


The Most Wasteful Areas of England

We wanted to find out which region of the UK produced the most residual household waste per household. Using official data from the Office of National Statistics, we calculated the total residual household waste across a ten year period for each region.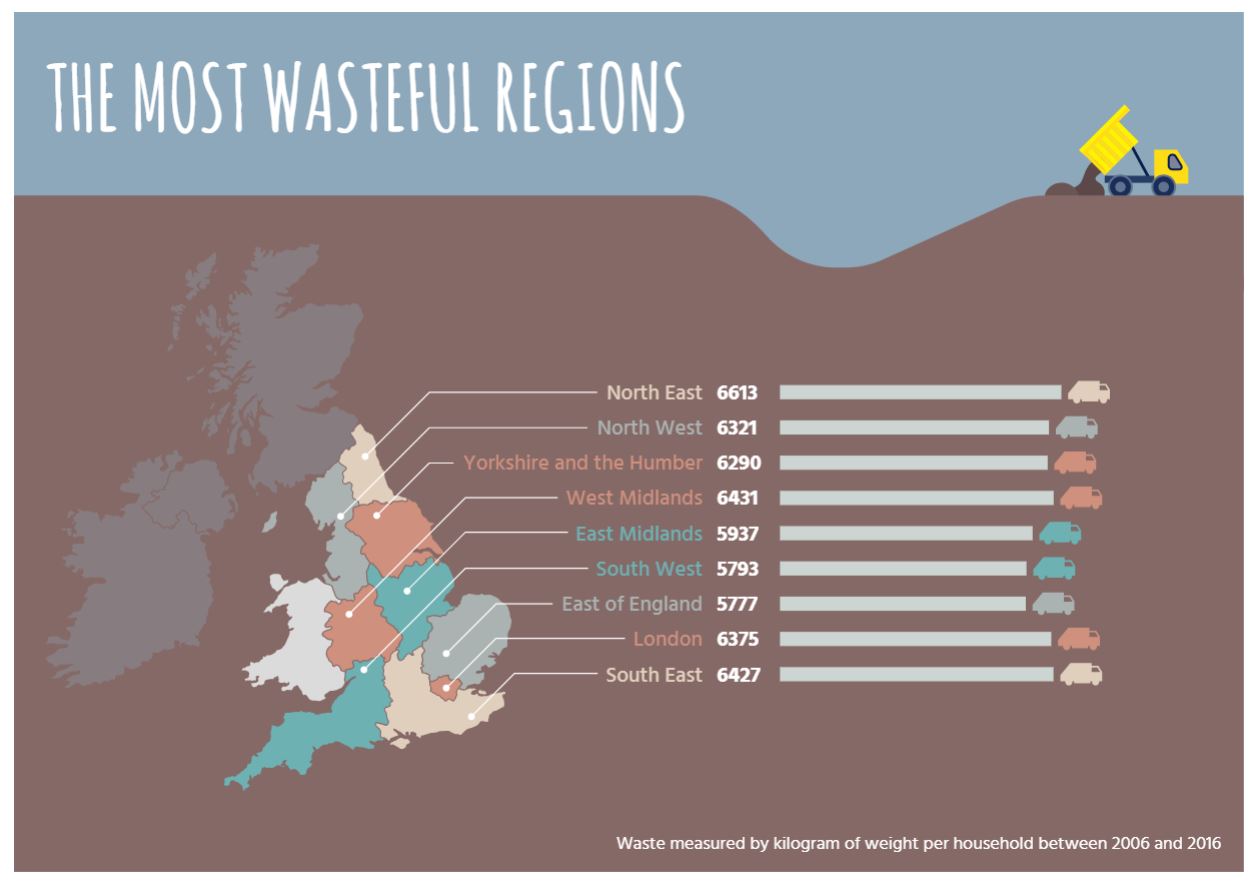 North East England were the worst offenders, producing 6613 KG of waste per household over a decade. This was closely followed by the West Midlands with 6431 KG per household. East of England produced the least waste per household, with 5777 KG. East of England was closely followed by the South West, who disposed 5793 KG of waste during the same period.
How Green are England's Cities?
We wanted to find out which cities in the UK are leading the way when it comes to reducing the amount of residual household waste. Latest figures show that Birmingham is the most wasteful city in England, producing 740 KG of waste per household. Southampton is another one of England's biggest wasters with 690.4 KG generated in one year, closely followed by Coventry with 649.8 KG.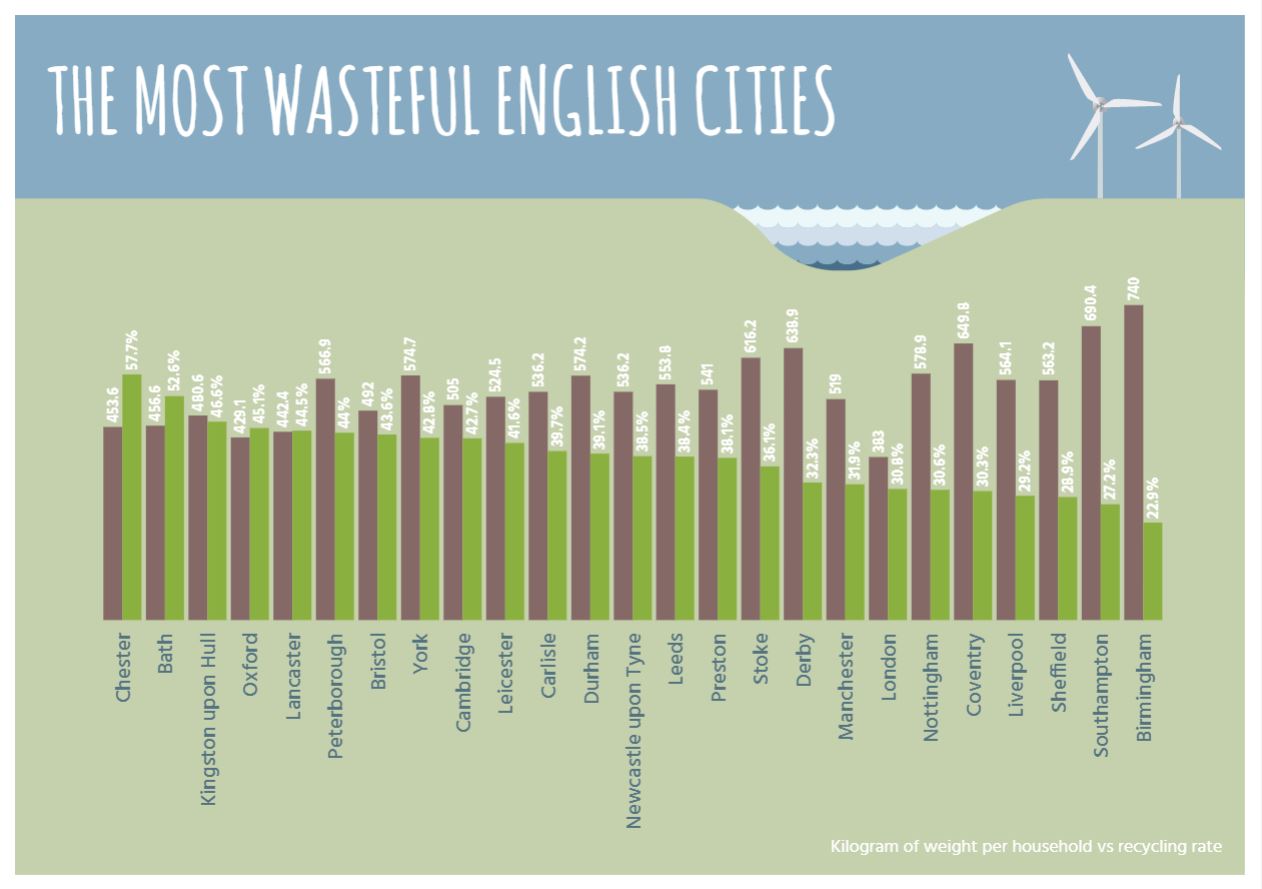 The Cities with the Best Recycling Rates
It's England's smaller cities that set the best example when it comes to recycling. With a recycling rate of 57.7%, Chester comes top of the table when it comes to reusing household waste. This is closely followed by Bath who recycles 52.6% of its household waste. In third place is Hull, who can also be proud of their 46.6% recycling rate.
When it comes to naming and shaming cities with the lowest recycling rate, Birmingham fares the worst. Despite contributing the most waste per household, Birmingham has the poorest recycling rate with 22.9%. Southampton, the second most wasteful city, also has the second lowest recycling rate with 27.2%. The third poorest recycling rate goes to Sheffield with 28.9%.
Methodology
As an environmentally friendly company, this piece aims to raise awareness about waste and recycling levels in England. The open data which has been analysed has been provided by Department for Environment, Food and Rural Affairs and is titled Local Authority Collected Waste Statistics. This analysis is inclusive of 10 years' worth of statistics.  As Scotland, Wales and Ireland do not produce in-depth data that is comparable to England, they are not included in the study.